About LeafGuard Gutters & Roofing of Northeast Wisconsin
If you're in the market for gutter installation, gutter guards, or roof replacement, you've come to the right place. In business since 2008, LeafGuard Gutters & Roofing of Northeast Wisconsin is your local expert in roofing and gutter protection. Our experience allows us to understand your home from the first nail to the very last.
When you choose a LeafGuard Gutters & Roofing of Northeast Wisconsin technician, they will suggest and properly install products to last a lifetime. Don't let Mother Nature have her way - keep your home safe by working with us!
In addition, as a Dr. Energy Saver dealer, we also provide a wide range of insulation services to give our customers a complete home improvement experience, which includes energy-saving solutions to improve home comfort while lowering energy costs. You can learn more about Dr. Energy Saver Services by visiting our website.
Protect your most important investment, your home.
Eliminate maintenance with LeafGuard Gutters
Improve comfort and efficiency with Dr. Energy Saver Insulation Services
Protect your investment with a GAF Master Elite Roof
About the Owner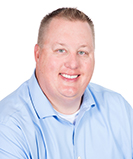 Owner
Josh Keeney
Owner, Josh Keeney, has nearly 20 years of experience in home improvement and absolutely loves helping homeowners! His philosophy: put the customer and their needs first. These aren't just words, but what Josh whole-heartedly lives by and instills in his team members.
With a background full of advancement and certifications in architecture and more, Josh knows the more he learns the better he can help his customers. When not in the office, Josh is a family man enjoying time with his family and friends. He also enjoys hunting, fishing, and other outdoor activities.
With a true heart and loyalty to values and high quality, Josh's qualities overflow into his entire team, creating the environment customers love and trust.
Our History
What started in 2008 in an economic downturn has become an industry leader in gutter protection, roofing and home comfort solutions. Through great customer service and superior products professionally installed, we can assure an experience for customers that is enjoyable and provides great protection for their homes and family.
Our Certifications and Awards
LeafGuard Gutters & Roofing of Northeast Wisconsin is a part of several local and national organizations that recognize us for the hard work we do. We are a part of several local Home Builders Associations, and we are certified through GAF, GuildQuality, and Good Housekeeping. We also maintain an A+ rating with the BBB, and we have received an Angie's List Super Service Award and a GuildQuality Award for Service Excellence. In 2016 we were named one of the Top 50 Remodelers in Remodeling Magazine. Without our dedication to excellence, supported by these many industry leaders, we would never achieve the level of customer satisfaction we strive for!